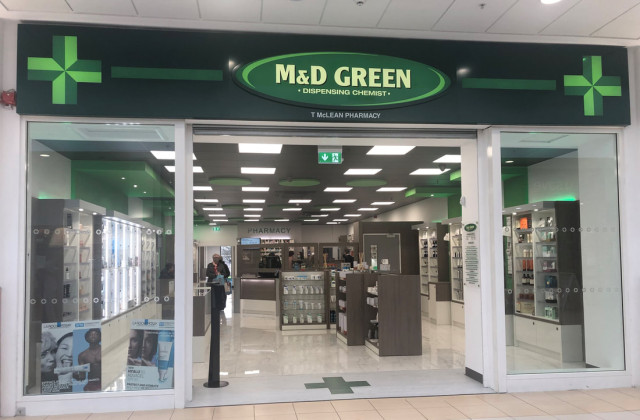 Opening times
Monday – Friday
8:30am – 6:00pm
Saturday
9.00am – 5.00pm
Sunday
11:00am – 5:00pm
​*Please note that these opening times are updated regularly but may change due to unforeseen circumstances.
Recently one of our McLeans pharmacies, part of the M&D Green Pharmacy Group as of 2018, relocated from the old town centre in Cumbernauld to the modernised Antonine centre, which has been built onto Cumbernauld's old town centre. The move of this branch has seen the size of our floor space quadruple, allowing for us to provide to an even wider community. The relocation now situates us directly across from Central Health Centre, with an entrance located at the top of the path from the surgery, thus allowing easy access for patients and fellow healthcare professionals.
The branch is now open seven days per week, providing a full and extensive service on each of these days. We are eager to extend our services to everyone within Cumbernauld and the surrounding area, priding ourselves on the optimal care and service we can provide. Our free prescription collection and delivery service covers the whole local area.
As before we will provide services including smoking cessation, compliance aids, care home services, pharmacy first, pharmacy first plus (when prescribing clinician is available). We have recently seen one of our pharmacy managers, Laura, complete her independent prescribing qualification, which will allow for extended prescribing to the community. This will assist the surrounding GP surgeries, helping reduce their workload with Laura examining and prescribing for a range of acute, common clinical conditions. With the modernised pharmacy hosting two bespoke clinical consultation rooms, it will also be possible to speak discretely to an expert in our team.
We pride ourselves in now stocking high quality Scottish brands such as Arran Aromatics, Scottish Fine Soaps and Siabann, which have already shown to be extremely popular. In addition to this, we are stocking luxury skin care including CeraVe, La Roche Posay and Vichy; well established brands approved by dermatologists to treat dermatological problems.
The staff within this branch have been preparing for the past few months, working overtime to ensure the move caused no disruption to our patients. We have welcomed many new staff members to our growing group and look forward to providing exemplary care for our patients, old and new.